Lotus STP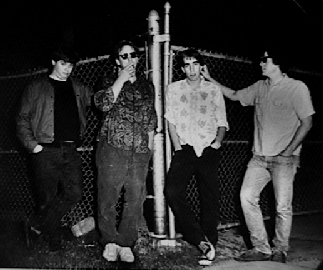 left to right; Stan the Man, Patrick Lowery, Chas Lockwood, Tim Poland

Oh, the trials and tribulations one undergoes while trying to make a go of it as a musician. Without a strong scene to support you financially, many bands endure frequent shake-ups in lineup. It's hard trying to find the right balance between a day job and night time band practices; members of Lotus STP, for sure, were not excepted from the horns of that dilemma. It's great to see, looking back, at the directions ex-Lotusites took upon leaving the band...
Stan the Man started the Badenovs with Adam Wilcox (Chitlin Flapjack of the Coffee Achievers), Marty York (Watkins & Rapiers)and Jen Turney in 1999. They released their debut CD, Step on it Big Boy on Jargon in 2002 and were joined by ex-KooKoo Boy Greg Hassett in 2004. Stan the Man still sits in with HuNu, the HiRisers and the Orange Barrels when the occasion arises. The Badenovs are working on a new CD slated for release in Fall 2006.
Thom Marianetti played drums with LSTP on their second (unreleased) album "Four on the Floor" (produced by Russ Tolman).Thom left LSTP to work full time with his brother Mark "Thing" Marianetti, Jerry Flanagan, Mike Murray and Tim Poland in the Fertitlity Rite Brothers. After the Fertits imploded, it is reported that Thom traveled to Tennessee to hook up with Hazil "Big Red Satellite" Adkins; and roadied with Hawkwind. Thom moved to Atlanta, then Toledo, Ohio. Thom resurfaces periodically and was at one time a member of the Riviera Playboys with LSTP mentor and Saxon Sound maestro Dave Anderson.
Chas Lockwood, main guitarist/melody man for LSTP and the Ferrets grew up, got married, became a Dad, put out the CHARLIES and lives in Baltimore Md. He's looking for a few good bandmates in the Baltimore area. Look for an updated page on Chas.
Tim Poland, started out on guitar after leaving the Detours, then moved over to bass after Scott Palmer departed. During his tenure with LSTP he managed to find time to play bass with the Stripminers and then became a founding member of the legendary Fertility Rite Brothers. A long time Breck Street resident, Tim left the band to join NOD; (joined by fellow Lotus alum Hugh Edwards on guitar). Nod has released several CD's to date, including three on Steve Shelley's Smells Like Records. Tim is also a founding member of the underground free-jazz ensemble COFFEE with Dave Cross, "Uncle" Phil Marshall and the Badenovs' Adam Wilcox (aka Chitlin Flapjack). COFFEE's many fine products include a really cool Raymond Scott cover "Coming Down to Earth" and they've collaborated with saxophonist Arthur Doyle and producer/Sonic Youth collaborator Jim O'Rourke.
Patrick Lowery was the original drummer for LSTP and one of Lotus's best lyricists. Long a stalwart of the Rochester scene, Pat has been involved with The Bulu's, Big and Pretty, Mommies, SLT, Jack the Baptist, RatDogs, Hotheads, Party Dogs and many others too numerous to mention.
Hugh Edwards, master of the snakewheel guitar, was an early member of NOD and Coffee. He currently lives in the Ithaca area and plays out from time to time with various NOD alum.
Ken Frank played bass on the first LSTP release and then left to join the Colorblind James Experience. He was an instrumental member of the Bulus, Bootlickers, Big & Pretty and Family Love Probe. After touring with Colorblind for a few years, Ken joined forces with "Uncle" Phil Marshall in LaLaLand. Ken and Phil are currently performing with Jim MacAvaney as the Orange Barrels.
Scott Palmer played bass guitar with LSTP and appears on a few cuts on Million Dollar Ring. Scott played with LSTP before leaving Rochester to seek his fortune in Boston. After LSTP, Scott played in several Boston area bands before hooking up with DJ Logic and Project Logic. Scott joined John Brown's Body in 2002.
Other Lotus STP Alumni include:
Steve Gallagher, drums.  
Matt Sabo, guitar. Legendary front man for the seminal Brockport NY band, the Bulus. Also a member of SLT and the Earthlings (many different spellings, this was the original) with the late Unkle Roger McCall, Jim Huie and Joff Wilson.
Mitch Radcliffe , drums (Rumbles, Shower Scene). currently residing in Corning NY.
Mark Bradley, sax (formerly of the Salamanders & Essentials).

---